TuneTracker System 6.2
TuneTracker System 6.2 brings users exciting new bulk normalization and trim features, a powerful "front sell" command for intro'ing songs, playback history, program log control of our new Fetchit! program, fullscreen mode, temperature announcement enhancements, and...(drum roll)...an end to CTRL-R!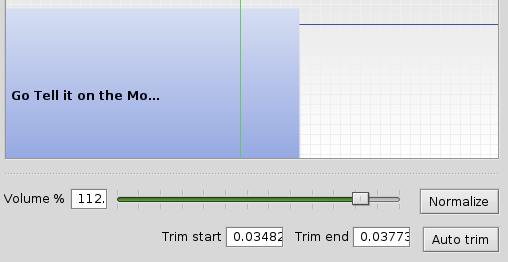 Killer new audio preparation features...

For the first time ever, our ArmyKnife program lets you automatically fine-tune your audio files, non-destructively. Our system analyzes your songs and saves information to their attributes that will be used during playback in AutoCast. This innovative approach assures there is no loss in quality, because the audio file's waveform is left completely untouched.
Normalize analyzes the peaks in your songs and other audio files. Use it to increase all your songs to a matching maximum volume, assuring better transitions from song to song
AutoTrim looks for silences at both ends of your songs and eliminates them harmlessly, using a sophisticated "listening" algorithm you can adjust to be as passive or aggressive as you like.
Volume Boost lets you manually boost the volume of a song, by dragging a slider.
Bulk Processing! This is where things really get exciting. Do automatic normalization and silence trimming on hundreds of files at a time. You can even set a manual amount of volume boost and apply that to multiple files. And because it's all done non-destructively, you can proceed without fear of messing up the quality of your songs' waveforms.
Also new in ArmyKnife...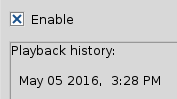 Zero-mystery history...

Eliminate all doubt about when, and how often, something has been on the air. Enable "History" on any files you want to track, and System 6.2 will start compiling a list of all the times that file has played. Know at a glance, right from the History tab in ArmyKnife, the exact dates and times; a complete playback history!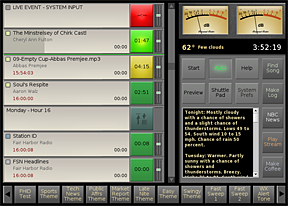 AutoCast: getting smarter all the time...
AutoCast radio automation introduces a "FrontSell" command, a new viewing mode, and loads of clever new features and improvements that build on its reputation for innovation and user-friendliness.
New "FrontSell" command lets you create intros for specific artists or song titles that the system will only use when they suit the situation. Put a FrontSell command ahead of a song, and AutoCast will check to see if there is a matching intro for that song or artist and play it. The intro can be as simple as "Here's Adele," or as complex as a produced interview clip for a particular artist, complete with a sweep effect.
New "Auto Off" command lets you schedule a "go no further than this" point in your program log, for specialty situations.
New "Fetch" command communicates across to our Fetchit! downloader, instructing it to execute one of its pre-defined downloads at a specific point in your programming day.
Switchable "Fullscreen Mode" makes AutoCast the only visible item on your screen, covering up the desktop regardless of what resolution your monitor is set to.
Our "Get Info" feature now includes extremely useful path and filename info about any song in your program log, displayed in the scrolling textbox.
"Temperature offset" is a slider added to System Prefs that lets you offset the temperature retrieved from the nearest airport, if that location is typically x-degrees warmer or colder than your radio station location, so you can keep your announced temperatures as accurate as possible.
Many other under-the-hood improvements, fixes, and performance tweaks.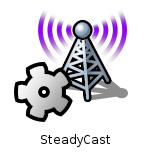 Introducing, "SteadyCast!"
Standing guard over System 6.2 is our brand new SteadyCast program, which monitors for signs of trouble and corrects them automatically. SteadyCast runs silently in the background, helping to assure every part of your TuneTracker System is healthy and operating properly.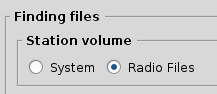 New multi-partition approach
While you can still store all your station files on the same hard drive partition as your software and operating system, System 6.2 is now optimized to make use of two hard drive partitions; "System" and "Radio Files." That way, you can keep all your Station contents separate. The big benefit comes when you want to do upgrades in the future, or perform an emergency re-install from your InstallKey USB stick. You can literally wipe out your System volume and do a 100% clean install without ever touching your station contents. Pretty slick!
Many other improvements...
It's no longer necessary to drag a song found in Lightning over into AutoCast to make it next-to-play on the air. Just select the song in Lightning and do CTRL-D, and it will be added automatically to the next-to-play position.
You no longer need to do "CTRL-R" or choose "Refresh program log" in AutoCast after making changes to today's or tomorrow's program logs in Lightning or TuneStacker. Any changes you make in those programs are automatically noticed and reloaded by AutoCast.
Our LiveEncoder program now logs the date, in addition to the time, for each new connection it makes.
LiveEncoder now detects connection problems, and restarts the connection if needed.
New filtering added to TuneStacker ensures that only audio files are added when using the PlayFolder command.
We've fixed a bug in MakeMyDay that would sometimes cause the Save button to be ghosted-out and unavailable.
We've fixed a bug in AutoCast where hitting the "E" key wouldn't open the currently-playing program log in Lightning.
SHIFT-CTRL-T lets you cleanly and easily restart the Tracker desktop if needed.





System 6 Upgrade

From any previous version of System 6

Single user upgrade license and software for the latest TuneTracker System 6, delivered on USB via postal mail.

$399

Qty:




Upgrade from earlier TuneTracker versions

From System 4.x or older

Single user upgrade license and software for the latest TuneTracker System 6, delivered on USB via postal mail.

Clicking this button certifies you agree to our terms and conditions.

$699

Qty:




TuneTracker System 6

Complete new user license

Single full license and software for the latest TuneTracker System 6, delivered on USB via postal mail.

Clicking this button certifies you agree to our terms and conditions.

$999

Qty: