Radio's new best friend.
Fetchit Automatic File Downloader
It's friendly. It's reliable. And more than anything else in life, it loves to fetch things. It's Fetchit!, TuneTracker Systems' faithful file retriever.
Any thing.
Fetchit! is the ultimate tool for radio stations that need to schedule downloads of radio programming, such as newscasts, sports reports, commentaries, weather forecasts, radio shows, vignettes, inspirational messages, promos and PSAs. Grab files of any length, as well as non-audio files like scripts, PDFs, and affiliate information.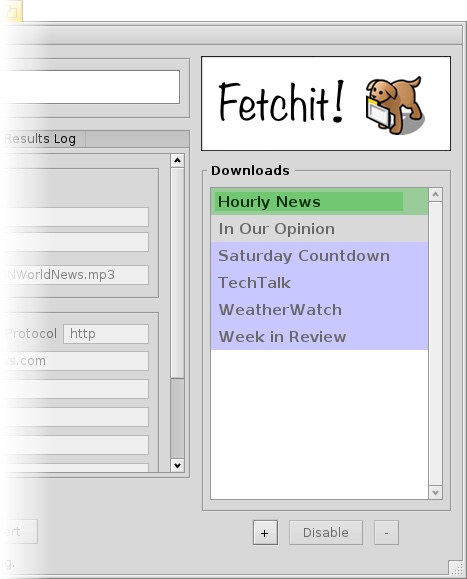 Any quantity.
Retrieve a single file or, in the case of FTP downloads, dozens of them at once! Get clever, and only retrieve the files that have a certain phrase in their filename like "morning" or "Chicago."
Fetchit! opens in an ultra-easy Basic Mode that will handle most common downloads. Flip to Advanced Mode for powerful features that let you do more sophisticated downloading, on complex schedules. Click to see one of the Advanced Mode screens.
Any time.
Syndicators provide their programs on all different schedules, and Fetchit! can handle them all. Set up a whole list of of unique downloads that can be performed once, or repeatedly:
Download a newscast at :55 past every hour.
Get fresh weather forecasts every weekday from 6 AM until 7 PM, at :20 and :50.
Retrieve a weekly commentary Monday mornings at 4:45.
Get a network Christmas special every year at 12 noon on the 5th of December.
Use your AutoCast program logs to trigger Fetchit! downloads, using the new "Fetch" command.
Anywhere.
Fetchit! will scamper wherever it needs to, to fetch program files for you. It can retrieve them from open HTTP and secured HTTPS websites, and from protected and unprotected FTP servers. Just enter the login information supplied by your programming provider.
Robust!
Fetchit! handle it. We've pressure-tested it with up to 300 different download schedules and 50 simultaneous downloads.
No guesswork.
As you move your mouse around Fetchit!, help text describes every feature. Entries in your download list change color to indicate their status. Messages and a progress bar tell you what's happening as downloads occur. You can even watch the action unfold during a download in "Results Log" view.
We've got your back.
Fetchit! comes with clear, friendly documentation, and we back it up with prompt, personal assistance from our Support staff...including 30 days of free telephone support, and ongoing free e-mail assistance.
Fetchit! Downloader



Delivered via e-mail.

$299.95

Qty: