Never miss another feed!


You've needed it...now you've got it!

Now, you don't have to spend a ton for a solid, reliable background recording system. For just $199.95, TimeTracker is a powerful, flexible "time shift" background recorder that allows you record network newscasts, closed-circuit network advisories and actuality feeds, sermons, speeches, concerts, and any other live audio you need to "catch now, play later." Use TimeTracker to grab an unlimited number of time shifted recording events from various input sources* that can each repeat on their own custom recording timetables.



A clear and easy interface...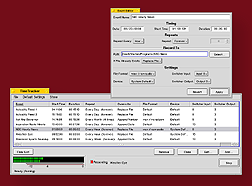 Following in the footsteps of TuneTracker™ and TuneStacker™, TimeTracker's front-end is carefully designed for clarity of purpose and ease of use. Within moments of launching the program, you'll find yourself happily scheduling delayed recordings using controls that actually make sense!

Click on the small picture to see a full size picture of TimeTracker at-work.


Make every time-shfit recording unique...

TimeTracker gives you complete control over each time-shift audio recording event you schedule.
Unlimited number of scheduled events.
Set a unique start and stop time for the event. Start and stop times are deadly-accurate.
Specify the frequency of the event; hourly, daily, weekly, monthly, even yearly.
Choose the overwrite status of each event. You may overwrite it, time or datestamp the filename, add sequential numbering to the filenames, or fail the recording if the cut already exits.
Date-stamped recordings can be automatically selected and played by their date in Command Center using our GetPlay feature.
Each event may be recorded to a different location and filename.
When used with our switcher package, you can select a unique input for each recording
Any switcher output can be selected as the audio line feeding TimeTracker background recorder
Reboot recovery option allows TimeTracker to re-launch after a power failure or other problem

Make every time-shift recording even more unique...

You can choose the audio format separately for each recording event. Record one in WAV, another in ADPCM (four times compression), still another in real-time MP3 format at ten-times compression!


Very friendly in use...

TimeTracker is very polite about running as a background task, co-existing nicely with TuneTracker™ and TuneStacker ™. All three may be allowed to run simultaneously, with the only limitation that you cannot record from the live input channel while also broadcasting the live input channel.


"I must say that (TimeTracker) does an excellent with background recording and time shifting of the newscasts we run."

Rick Whitworth
KCSA, San Angelo, TX

Read other media comments and user testimonials

TimeTracker provides clear, unambiguous messages about which background recording event is "up next," and while recording, shows the name of the event being recorded. As with TuneTracker™, TimeTracker sports its own real-time, stereo VU meter, which can be viewed to confirm you have audio input, and to help you set input levels.

TimeTracker allows you direct selection of any of the input sources available on your sound card, including line-in, mic-in, and if available, aux-in.



Ready to order?

Use the form below, or call us and place your order by phone.
Please also feel free to call with any pre-sale questions on TimeTracker time-shift background recording software!

920-273-0543
TimeTracker™
Background Recording Software


Single user license and software for TimeTracker time-shifting, background recording software, which will be sent to the purchaser via e-mail.


Clicking order button certifies you agree to our terms and conditions.

$199.95

Qty:




* Input selection feature requires one of our available TuneTracker switcher packages with Broadcast Tools switcher.