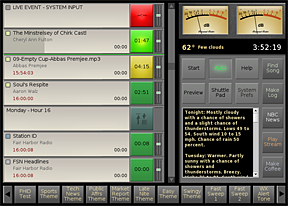 Click the graphic above for a
FULL VIEW of the interface.



Radio Automation Revolution.

Command Center System 5™ is a complete broadcast suite that sets a whole new standard in radio automation. Command Center offers a combination of power, stability, professional features, and affordability that is unrivaled in the broadcast industry. We're the go-to choice for broadcasters around the world in every size market, from the smallest LPFM stations to nationally-syndicated radio networks.

Customers love our system's legendary automation stability, huge format flexibility, powerful music selector, built-in Internet streaming, local, live-assist, and satellite capabilities, and in Command Center, just about every imaginable automation feature (see The List) including a remote administration option.

System 5 is a complete package, ready to put you on the air. Command Center radio automation, TuneStacker music selection, Lightning request finder, MakeMyDay master log builder, Army Knife attribute editor, and CSacker report generator are all included in System 5. And we back it up with the best support in the industry, as evidenced by our mile-long testimonials page.

And, we're green. TuneTracker software products are designed with super-efficiency, so they barely nudge your computer's processor. Have a look!


It's time to take command.



Command Center truly lets you take command, with live and automated features that let you go wherever your imagination takes you. A terrific, DJ-friendly design handles live shows with grace and ease, and TuneTracker's legendary Infinite Walkaway™ stability allows for stress-free extended periods of unattended operation. (video)

Like a fine automobile, TuneTracker Command Center™ is the perfect blend of elegance, simplicity, and raw power. Every feature has been carefully crafted to assure a smooth, precise "driving experience."

During live operation, Command Center's fast, nimble performance and heads-up control surface keeps up with your fastest moves and tightest maneuvers. And when it's time to put Command Center in "cruise control," you can relax, knowing it'll stay right on course, all day long.

Click on the picture above to see a full-sized TuneTracker Command Center™ screen. A quick inspection of the interface will make a lot of its functionality immediately obvious. That's the way we like it!


The interface is so important...

We've been there, and we understand. Too many radio automation systems, including some extravagantly expensive ones, are ponderous, difficult to use, and painful to look at. Here are three ways we've tried to make ours better.

One window, no waiting... Some automation interfaces are absolutely crawling with distracting little floating windows. Count the windows in TuneTracker Command Center. One. That's it. There's one window. You just flip view modes to access additional features like the program log queue. And you do it without ever taking your eyes off the road, because what's playing, and what's next-to-play, are always right there, visible. The only time you pop open an extra window is to adjust preferences.

No feature glut... Command Center is an extremely deep program, but we don't leave you with the feeling you're in over your head.

No gaudy colors... DJs must often look at the automation screen for many hours at a time, and we think it's downright inhuman to subject them to an overly bright control screen bedecked with buttons in a dozen clashing colors. Command Center's muted shades were carefully selected for their "eyeball ergonomics," giving announcers and engineers a screen that's not only functional and elegant, but reduces eye strain and brain drain during long air shifts.


Have it your way...

All the buttons in Command Center's "ButtonPad" area on the right side of the interface, and in the "MyShow" area along the bottom, are customizable. (video)

The power of twelve! Any of our configurable buttons can be used as a:
HOT BUTTON: Instantly play any audio file.
CART BUTTON: Play a series of audio files in rotation, "cart-style." (video)
TEXT BUTTON: Display a written script in Command Center's scrolling textbox (from hard drive or Internet).
INDEX CARD BUTTON: Display the next script in a rotation, each time the button is clicked. (video)
RUN BUTTON: Launch a task, such as a program or batch file script to do downloads, etc.
SWITCHER BUTTON: Routes one or more channels on your switcher (requires ChannelCaster package).
CLEAR SWITCHER BUTTON Clears all currently-assigned audio switcher routes.
STREAM BUTTON: Relay a remotely-located audio stream or Internet-based audio file over your local broadcast.
RELAY BUTTON: Send a relay closure to your switcher, to cause an external event such as a tape deck start.
LINE-INPUT BUTTON: Broadcast whatever is being sent to the line input of your sound card.
GAME BUTTON: Insert a game log (or other special playlist) into your program log.
DO BACKUPS BUTTON: Do a complete system backup with one click of the mouse.

"Holy show-prep, Batman!" Every DJ can can set up pages and pages of personalized buttons. They can either manually load their button sets, or have TuneTracker auto-load them just before the start of their show. Create as many as you like.


TuneStacker™ music selection software...included!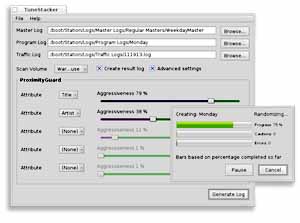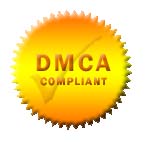 TuneStacker™, our music selection and program log generation software, is worth the price of admission all by itself. A marvel of software engineering, TuneStacker™ leverages the power of the underlying Haiku® operating system to do all the work of music selection, building sophisticated program logs (playlists) in seconds. The scope of what you can do with a few simple lines in your master logs is mind-boggling. Each song can be found by multiple criteria such as Tempo, Genre, Rating, Comment, Album and Artist, even your own made-up categories, and can be protected by up to five levels of "collision coverage," making TuneStacker™ fully compliant with the "small Internet Broadcaster" standards set by the Digital Millennium Copyright Act.

Because TuneStacker™ is such an important part of the TuneTracker radio automation suite, we have devoted a full page to its description. Read about the flexibility it gives you in creating the ultimate music mix for your radio station.


Stream to the net...

Included in TuneTracker Command Center suite is LiveEncoder, a streaming Internet server that lets you broadcast in multiple formats, multiple bitrates, even several different formats and bitrates at the same time! LiveEncoder streams are easy to set up, work stably, and are compatible with rebroadcast services like Live365, Abacast and StreamGuys. LiveEncoder streams are smart, too, providing metadata about the Artist and Title directly to listeners' audio players. You can broadcast in mono or stereo, at a variety of qualities. And your broadcasts can be made DMCA-compliant, too, thanks to the ProximityGuard features built into TuneStacker™.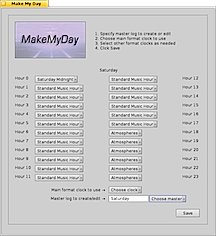 A bundled extra that's going to make your day!

You can't have an automated radio station without master logs, and TuneTracker System has found a way to make creating them not only easy, but downright fun!

MakeMyDay lets you combine format clocks in any order to create master logs for each unique type of day your station broadcasts. Create a Weekday master, a Saturday master, a Sunday master, Christmas Day master, etc. We've devoted a whole page to telling you more about why MakeMyDay is a real time-saver and a great part of the TuneTracker System.


The remarkable Lightning request finder/program log editor



Based on the feedback we get from our customers, this is one tool none of them would want to be without. Lightning, our instant request finder and drag-n-drop program log editor sells for $149.95, but we're including it free in the Command Center package.

When it comes to finding a song request fast, even an obscure one, nothing else comes close. Imagine getting a phone call from a listener who wants to hear any U2 song from a live performance done in the early 90s (and you know there'll only be about four minutes to squeeze it in, so only songs close to that length should be included in the search). Or, a request comes in from a jazz fan who wants to hear "something mellow from the mid 60s by Coltrane." In Lightning, you can have it on the air for them for them in just a few seconds. There are so many exciting things about Lightning that we have devoted a separate page to it. But disregard its reference to price if you purchase Command Center, because you'll be getting Lightning free!


What? Army Knife too?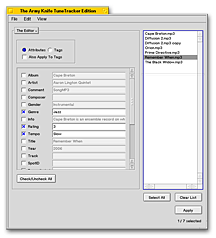 Got a 5,000 song music library and you're dreading the song importation/preparation part of it? Relax. We include the full, professional version of the Army Knife program, which turns drudgery into child's play. Just drop in your songs and use our built-in editor to copy-over the attribute information from your library, and add information to it. Make bulk changes to thousands of songs in seconds. There's lots more to say about this remarkable program, so we have prepared a separate page where you can learn more about it. (video)


Complete Systems...

TuneTracker Systems sells an impressive line of complete station packages built around Command Center, including "ChannelCaster" packages that come with switchers for satellite operation., free training DVDs, and more. Our six custom packages give you a level of power and sophistication previously unheard of in its price range.


The List

As much as we'd like to, we can't begin to describe all the features and capabilities in Command Center™. There's just too much to tell! Here's a partial list.

Hover your mouse over the green

symbol for more information on each feature.



Acclaimed User's Guide - We put this right at the top of the list, because we think a great user's guide is the key to a great product.



Beautiful "Command Screen" makes Command Center great in a live DJ environment.



Our legendary stability and jitter-free operation.



TuneStacker music selection software (included free).



Unattended Program Log Generation option.



Music log importation Already have a favorite music scheduler? Command Center certified compatible by Music Master, Natural Music, Selector, Music 1, and Power Gold.



Traffic log integration with built-in support for most traffic systems.



As-Run log generated for Traffic and Billing.



Switcher (Satellite) Interface lets you run satellite-based programming, such as music services and talk shows, and switch among multiple audio sources manually and automatically. Even supports making multiple switches among input and output sources at the same time. Special features also included for network broadcasters.



ContentDepot®-Compatible Broadcast programming from National Public Radio using the ContentDepot® system.



Streaming server for Internet broadcasting.



Lightning request-finder and drag-n-drop program log editor (included free).



MakeMyDay master log creator, quickly combines format clocks to create master logs.



Live Assist Mode handles live shows smartly.



Army Knife TTE song attribute editor (included free). (video)



Time Announcements - a full set of professionally voiced, professionally-engineered and fully-customizable time announcements (included free).



Extra categories = extra creativity! - Three "Misc" attributes let you categorize your music using your own creative criteria.



Temperature announcements available as a pre-recorded add-on feature.



Exact-time starts with fade option for joining network newscasts, etc.



Millisecond-Level Accuracy lets you adjust the timing of pauses, live audio, and satellite events down to a thousandth of a second.



Time-Corrects for "soft" time adjustments



Preview button lets you audition any song or other audio file without it going over the air.



Preview Anywhere - Listen to a song or other audio file from the desktop or any TuneTracker System program without it being heard on the air (requires one of our Station-in-a-Box system packages).



High Definition Audio - Support for super-high-fidelity HDA audio hardware



Web Site Updater option lets your web site display currently-playing song information.



Live365 Updater option supplies Live365 with song and station data.



Real-time weather conditions and forecast are automatically retrieved and displayed.



Completely remote-controllable with the optional TT Anywhere remote administration program.



On-the-Go Touch Control using your iPhone, iPod Touch, or iPad.



An exciting, free video on DVD demonstrating and explaining Command Center is available!



To get yours, call 920-273-0543.



Remote DJs can send their voice-tracks to the system directly.



Ramp talkovers let your voice-tracks "ride the ramps."



Smart Talk Beds can automatically put music under your headlines, weather, music billboards, etc.



Highly configurable silence-sensor.



Automatic reboot recovery after a power outage.



KickStart failsafe feature monitors for trouble and solves it.



Programmable ButtonPad These buttons put the 'Command' in 'Command Center!' They let you assign customized buttons to play audio files, do 'cart rotations,' flip through script 'index cards,' fire switcher events, display DJ scripts, trigger relay closures, play streaming audio sources, insert sports logs, even launch external programs and batch files, all with custom-labeled buttons. Use them to play jingles and show opens, display PSA scripts, bring up other studios or network feeds, play audio streams from remote locations, bring up other programs such as Lightning, even start the coffee maker! (video)



MyShow Buttons: The cartwall soundboard that does more! Pass your mouse over the Info icon for details.



Auto-Loading Customized DJ Sets automatically bring up the correct set of customized buttons for each DJ shift



Drop-and-Use Configurable Buttons detect the type of file you drop onto any configurable button, and automatically configure and label the button for you.



Drag-n-Drop program log editing right on the Command Screen with our exclusive "ShuttlePad" feature, which makes adding, copying, and rearranging items in your program log a breeze. (video)



Expandable scrolling textbox Pass your mouse over the Info icon for more on the scrolling textbox. (video)



Auto-display live scripts for DJs to read, from the hard drive or the Internet(!), and schedule popup reminders to appear in TuneTracker's text box at specific times of day. (video)



Color Coding lets you see at-a-glance what sorts of items are coming up.



Play any combination of MP2, MP3, WAV, AIFF, Ogg Vorbis, ADPCM, MTS, and other audio formats, in varying bitrates and sampling rates, flawlessly.



Output Log keeps a detailed text record of everything that played, in a format importable into spreadsheets for analysis.



Manual crossfader
lets you do silky crossfades to any song in your program log, even out of sequence



"Push to Pause" - Push (click-hold or touch-hold) the currently-playing song's bright green button to pause it. Push again to continue.



Picture-perfect automated segues. Mark your songs' in and out "segue points," for customized transitions that sound "hand mixed."



Industry-Standard EOM Feature EOM times, even those provided with third-party music libraries, can be used to do flawless transitions, complete with quick-fades.



Sec Tones! Want hard-hitting segues? Mark cue-points on your audio files to force an overlap transition, just like the old "sec tones" used on tape.



Collapsible Display lets you view your program logs complete, collapsed into hours, or collapsed into days



12 or 24 Hour Clock displays the time in standard 12-hour format or in 24-hour "military time"



Stream Relay feature lets you relay another station's Internet stream over your station's broadcast signal.



Play-from-web feature lets TuneTracker simultaneously download and play audio files located elsewhere, such as on an Internet web site.



Automatic Download capability is built in. Downloads can be done on-demand using scripting (do it yourself, or available inexpensively as a service). Automatic downloads of program content from Internet web sites and FTP servers, can be done on any schedule you like.



Fixed-length automated live audio events for newscasts and other predictable-length audio feeds.



Universal Playback Access: With Command Center, every event on your program log is its own instant audio player, complete with crossfader!



"Floor-to-ceiling" pop-out volume controls as big as those on a real mixer.



Force-to-exact second feature. Manually force Command Center to go to the exactly right event at the precisely correct second in that event for the current time of day.



Smooth, lifelike analog-style VU meters



Overlay feature for the automated overlay of IDs or other audio at specific times.



Chime feature drops a tone, sound effect, or other audio file in, over whatever is playing, at specified times, without ducking the audio. A professionally-produced top of hour chime audio file is included.



HotTracks let you rotate through IDs, jingles, liners, etc. when specific relay closures are received.



Break Span gives you the flexibility to fill satellite breaks only when you have something to fill them with.



TriggerPlay feature allows time-calculated drops over the top of a block program.



Volume Boost can be used to automatically bump up volume on quiet events



Pre-set the playback volume manually for any track.



Trim feature lets you trim the front and back of any track (non-destructively).



Starts feature protects against an ad or other file being used sooner than it should.



Expires feature assures out-of-date audio files cannot be played, even if they were accidentally left on the program log. (video)



Last Played feature lets you see, at a glance, when any track was last played by Command Center.



The new "Run" command can launch any computer task, letting you "automatically do anything!"



Powerful "GetPlay" command lets TuneTracker choose the correct program or voice-track for every hour of every day of the year, without any changes in your program logs!



Powerful new "GetFile" command dynamically retrieves a file from a folder, regardless of its filename.



Expanded music randomization functionality in TuneStacker allows songs to be found by even a part of a word, and regardless of upper and lower case.



But NOT feature in TuneStacker factors out songs that contain elements you don't want. Find every "Fast" "Pop" "Female" song that doesn't have the Comment, "Christmas," for example.



Wire up a physical push button for remote starting (requires switcher)



Our latest free weekly QuickTip can be retrieved from online and displayed right in Command Center.



Change the font size and style in the text box (see example screen).



Zoomable Text Box lets you increase its size for a significantly larger reading area. (video)



"Get Info" displays detailed data and backgrounder information about each song.



"Edit Song Info" sends any song into Army Knife for tweaks to the info available about the song. (video)
How does Command Center stack up against the competition?

LISTEN to an unsolicited testimonial from Station Manager Brian Corea of Ohio University


Context Help is available for every feature by simply right-clicking on it



Full and comprehensive documentation is provided for the entire system.



Unlimited creative freedom to design any imaginable music mix with our included TuneStacker music selection software.



Smart pausing feature is immune to silence-sensor, for hassle-free overnight sign-offs.



Drag-n-Drop interactivity between Lightning and Command Center. Find a request and air it fast.



A free copy of the slick, smooth, media-friendly "Haiku®" Operating System. Read more about it!



A free set of 25 hand-selected music beds, sound effects, and sweepers, courtesy of sounddogs.com. Listen to a sampling of included tracks.



Pre-configured hotkeys make launching programs super-fast.



A pre-configured Station folder and subfolders, for organizing your station's contents



A whole month of free telephone support.



Free ongoing e-mail support, forum support, chatroom support, and weekly QuickTips.



Mozilla Firefox browser. A terrific web browser and documentation reader.



Backward compatibility with your TT2 Basic or Pro program logs.*



Available FastTracker training DVDs can be used to teach yourself the system, and to bring new staff members up-to-speed quickly.



TuneTracker's Infinite Walkaway™ means peace-of-mind...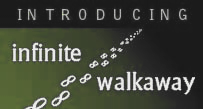 If a radio automation system can't be trusted to keep going when you leave it alone, it is really of no use. TuneTracker Command Center™ has been specially coded to be a survivor...rock-solid and dependable (read our testimonials!), so you can set it up, start it up, and walk away confidently.

Aside from its stability and stubborn determination to keep going no matter what, TuneTracker Command Center™ also benefits from a bottomless program log queue. Drag and drop as many program logs into the queue as you want, for days, weeks, even months of unattended operation. Still not good enough? Click the "Repeat" x-box and TuneTracker will cycle back through the entire list of program logs when it reaches the end. An obvious use of this approach is to put in a week's worth of daily program logs and have TuneTracker repeat the week "infinitely." Or, tell Command Center to choose each day's program log based on filenames that contain days of the week, or calendar dates. Some situations may only require a single program log, or just a portion of of a day, repeated over and over. An automated public address system may only contain a dozen audio events in a mini-program log. It makes no difference. Command Center™ will happily oblige.

Adding to its reliability, TuneTracker™ comes equipped with a reliable, configurable silence sensor that'll bail you out if your live satellite audio feed suddenly fails in mid newscast! And, reboot recovery brings Command Center right back up after a power outage, resuming at the correct place in your program log.



"Needless to say, the radio automation solutions being purchased by most stations are expensive. Less apparent to the general public is the fact that much of this expensive software is buggy, difficult to set up and use, and suffers from performance limitations imposed by the underlying operating system.

".A radio station requires world-class stability, where uptimes are measured in months, rather than days. ...TuneTracker is a radio automation solution that is actually enhanced by the underlying OS."

Scot Hacker
BYTE.COM
Behind the magic...

Command Center owes some of its amazing stability and capabilities to the operating system it runs under, the remarkable "Haiku®" Operating System, which is included with each system we sell. It installs straight off the CD to the partition or hard drive of your choice.*

Initially, some might find the prospect of using a different operating system a little unnerving. Fear not. Haiku® uses a very familiar, Windows/Mac/Linux-like interface, with its taskbar, start button, windows, and icons. All the common operating system tasks you're used to performing in other operating environments are handled the exact same way under Haiku®. The important difference is that this operating system was designed from the ground up for stability and jitter-free playback of high bandwidth media, giving you a level of walkaway confidence that's difficult to duplicate on other platforms. Once you have installed and used it, you will wonder why you ever tried to get by doing radio anywhere else.



We're ready for your questions!

Don't hesitate to call us for a pressure-free conversation about your radio station and needs. You can also reach us through our Contact page.

920-273-0543




TuneTracker Command Center™
Software Only

Radio Automation Software Suite with free "Haiku®" Operating System.

By clicking order button you are certifying you have read and agree to our terms and conditions.




$999




TuneTracker Command Center™
Station-in-a-Box

An impressive line of powerful "Station-in-a-Box" systems that offer you the exact mix of power and capabilities you need for your radio operation.

$1599 and up

Click to view all available packages




Excellent companion purchase:

$29.95 - Video Training DVD covering the Command Center Interface



Take this site with you

Every page on this web site is printer-friendly, making it easy for you to print-out its pages so you can read them when you're away from your computer, or present them to others in your company or organization. We know you'll be excited as you learn all the things our radio automation systems can do to make you, and your radio station, successful.






* TuneTracker Command Center™ is available both as a software-only solution and as a pre-built "station-in-a-box" computer system. If you are purchasing the software-only, be certain of your existing hardware's compatibility with Haiku® before obtaining this package. We recommend you double-check your hardware compatibility to assure a trouble-free Haiku® installation. If you are unsure about the compatibility of your existing hardware, you should purchase one of our complete "station-in-a-box" systems instead.

TuneTracker Systems does not warrant that Haiku® will run on your particular hardware configuration, and once a keyfile has been sent, we cannot issue a refund. If, however, you do discover that Haiku® will not run on your computer hardware, we offer the option of providing you a credit equal to your software price, minus $100, toward the purchase of a TuneTracker Station-in-a-Box system, which comes complete with the computer.

Additional terms and conditions.