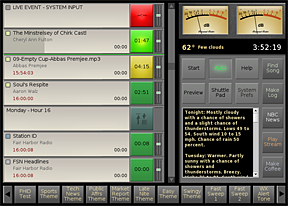 TuneTracker System 6.1
TuneTracker System 6, version 5.1 turbocharges your music, with a great new Transitions editor, completely new TuneStacker with aggressive, cross-day ProximityGuard protection against repeats, and significant updates, improvements, and fixes in AutoCast radio automation.


Introducing, "Transitions!"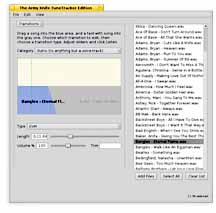 A brand new "Transitions" interface, built into Army Knife, lets you rapidly (and graphically) mark the transitions of your songs, voice-tracks, commercials, jingles, sweepers, and other files.
Playback capabilities in the editor let you listen to everything as you're working on it, so there's no guesswork. Transitions lets you pick a test-with song or voice-track, so you can hear how your transitions will sound in a real-world situation. To fine-tune things even more, there's a slider and a text field that let you tweak your transitions down to the millisecond.
You're not limited to a single type of transition, either. Choose to set an EOM, a Cue, a voice-track ramp, or one of a number of other options, based on what will work best for a particular audio cut.
Transitions is really fun to use. The design is so clean and simple, the approach so intuitive, that you'll literally be up and running with it in seconds. There are clickable buttons and keyboard shortcuts, so you can work the way you like best.
Watch the video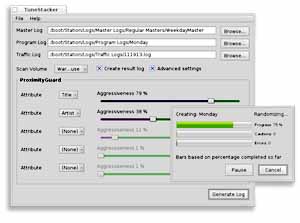 MAJOR Improvements in TuneStacker
Also dramatically improved is TuneStacker, our music selector. Its completely redesigned music selection engine does all the thinking for you, automatically analyzes your music library and protects by the maximums your library can support. Just pick the attributes you want protected (such as Artist, Title, etc.), set how aggressively you'd like them protected with a simple slider, and TuneStacker takes care of the rest.
Other new TuneStacker features
We've also added "Gender" protection as an option in ProximityGuard.
There's also rotation protection.
And, we've made the TuneStacker window resizable, so you can easily view the entire path and filename of your log files.
AND, we've added report generation. If enabled, TuneStacker creates a nice, clear written report of everything it did, how much protection was possible for each attribute type, and lots more.
In AutoCast radio automation, the improvements are all under the hood. Transitions are handled much more elegantly, and support has been added for the new and improved transition capabilities in Army Knife. Dozens of other improvements, large and small, have been added to make your broadcast experience smoother, more reliable, and better than ever.
In MakeMyDay, our master log builder, we've added a feature that makes things great for our commercial stations. MakeMyDay now automatically adds the hour to your break markers, meaning one format clock's break markers can be re-used all day long. No need to use different format clocks for each hour, or (Heaven forbid!) edit your master logs anymore. It's a small improvement with huge implications for Traffic.
TuneTracker System 6, version 5.1 with all its many improvements is now available to purchase, and is included in all Station-in-a-Box systems we well. For more details, to order, or to upgrade, visit the 5.1 Info page.
Now's the time to act!
Don't miss out on all the wonderful features and innovations we've added since your last upgrade. Whether you've been keeping up-to-date, or have let things lapse for awhile, this is the time to act. We've priced our upgrades to make them accessible to even the smallest of stations.