2/5/23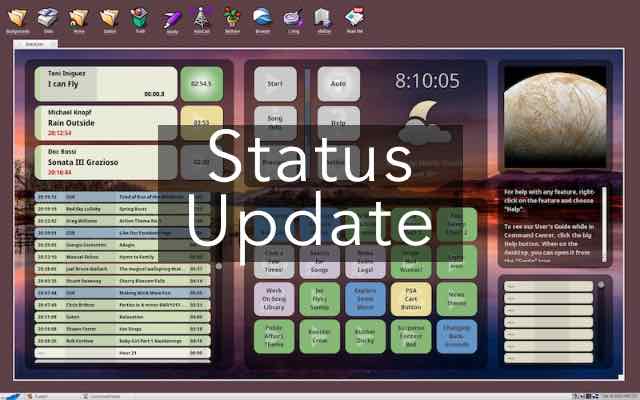 Solid movement toward the goal of broader hardware compatiblity and "infinite walkaway" stability
Progress on Hardware Compatibility Project
TuneTracker Systems Programming reports some significant progress towards our goal of making the TuneTracker System software capable of running a broader range of computer hardware once again. It is a large project and ambitious project, essentially replacing the entire underpinning infrastructure our software runs on, but we are making marked progress.
We will continue to update you on the Status page (also accessible from a link near the top of all the pages on this site).
---
2/29/22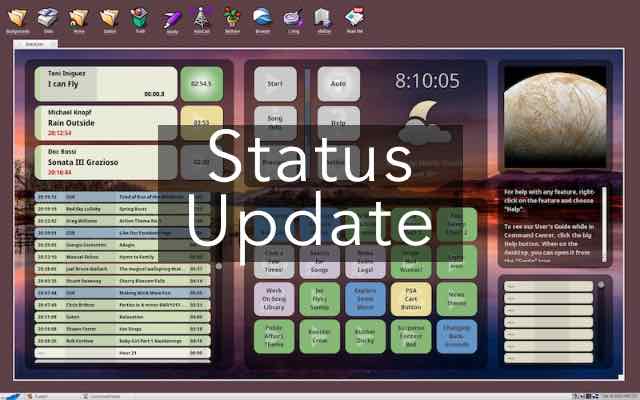 New Status page will keep users informed company developments
New "Status Page Announced
TuneTracker Systems LLC has just added a "Status" page to our website to keep customers informed of company developments. Please visit and bookmark the Status Page and check it routinely for updates.
As of today's date, our status is that we have discontinued Station-in-a-Box sales for now, but still offer our entire software lineup, including the new AutoCast version of our radio automation system, our two music libraries, Vicennia and HeartSong Radio, accompanying System 6 software suite, the Discover Haiku Operating System USB experience, the add-on items mentioned on our Products page, and ongoing technical support services.
---
2/27/22
Vicennia AC Library Targets Lucrative 40+ Market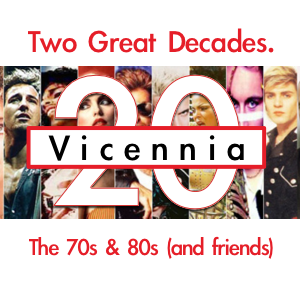 1500 Song Radio Library Features the Hits of the 70s, the 80s, and "Friends"
TuneTracker Systems LLC today announced the release of Vicennia, a large high-fidelity radio format library of music targeted to the lucrative 40+ listening audience. In addition to a core library of music from the 1970s and 1980s, the format includes complementary music from the latter 1960s, the first half of the 1990s, plus newer songs that flow well with the rest of the format.
Carefully Curated
Vicennia (pronounced vy-SENN-ee-uh) is provided in WAV format, with special attention paid to the trimming, normalization, and the setting of intro ramps and transitions. All songs in the library have been engineered to to allow for transitions by Cue and EOM, or if preferred, using a universal overlap time of one second.
Accompanying the library is a database with Artist, Album, Title, Year, Decade, Intro, Cue, EOM, and other attributes that allow music selection software to create highly customized music flows.
Pricing and Availability
Vicennia format is priced at $799 and is available for immediate ordering. its 1500 songs are delivered on a 128GB USB flash drive.
---
9/30/17
New "Send-it!" Plugin Hits a Round-Tripper!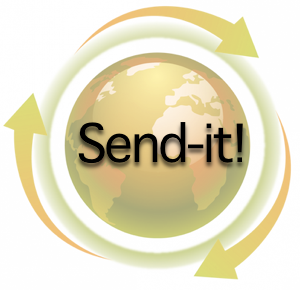 Fetchit! 2.0 is already an incredibly flexible, configurable downloader, and thats great. But our newly-announced Send-it! plugin lets you hit a round-tripper. With the addition of Send-it!, you can now not only retrieve files, but also transfer them to another computer in your building, across town, or around the world.
Using Send-it! is as simple as adding a step to your Fetchit! download profile. Look what it makes possible
Transfer downloaded files to another radio station computer.
Push a processed collection of downloaded files to a server, for access by multiple computers.
Operate a stand-alone downloader computer that handles file downloading and distribution for an entire radio station group.
You can add Send-it! to your shopping cart when you order Fetchit!, or add it if you already have Fetchit! 2.0 or higher.
---
9/15/17
TuneTracker Systems Introduces: TuneSentry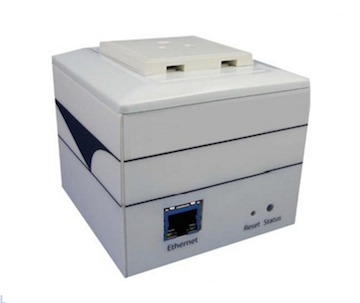 Ask any computer user, on any platform, and the conclusion is universal: every computer will freeze or lock up from time to time. For broadcasters, that presents a particularly difficult problem. Compounding it, sometimes computers do a silent freeze, sometimes they don't…so at a radio station, an external box that listens for "silence" before restarting the computer is NOT the ultimate answer. What's needed, especially during periods when your station might be running unattended, is an effective way to restart an unresponsive system, regardless of whether there's still something on the air. Now, we've got it!
"TuneSentry" is a super simple device. You plug TuneSentry into the wall, plug your computer's power cord into TuneSentry, then run an ethernet cable from the box to your local area network. The power box talks to your computer over the network every few seconds. If the computer fails to respond for any reason, TuneSentry turns power to the computer off, then back on, causing the computer to restart, and your radio automation computer to relaunch.
We've tested TuneSentry extensively and have found it to be extremely reliable. With our recommended settings, your system will be rebooted and back running again just over 60 seconds after a problem occurs! It's a super-blessing to broadcasters who run unattended part or all of the time.
We're offering TuneSentry for just $149.95. Call us at 920-672-8244. For the sake of your own peace of mind, get yours right away!
---
9/12/17
Twice the Capabilities, in Fetchit! 2.0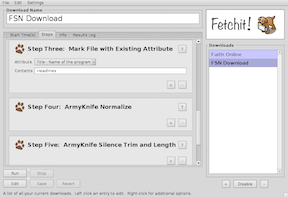 TuneTracker Systems today announced the release of the world's easiest, friendliest high-end downloader for broadcasters. Fetchit! 2.0 introduces a new "Steps" approach that lets users put together a custom download that does everything they need, in simple, straightforward little steps. Each step performs a function, such as:
Retrieving selectively (just get files that are new, have something in common, or have changed.
Renaming files to include a date, your own unique wording, or via search-and-replace.
Normalize all downloaded files, so they play at consistent volumes.
Trim silences from the front and back of the files, to avoid lags during playback.
Mark the files' attributes, with Artist, Title, Comment, even new customized attributes.
Save downloaded files to any specified folder location.
Because of Fetchit! 2.0's modular design, new plugin steps, even custom ones we design for you, can be added at any time. Combined with the deep and sophisticated scheduling built into Fetchit!, that means you can do pretty much any imaginable task, as frequently or as seldom as you like, on any schedule you please.
Fetchit! 2.0 can also talk with other programs, sending tasks over to our ArmyKnife, displaying alerts in AutoCast, etc.
Because of the dramatically expanded capabilities offered by 2.0, it is considered a new product rather than an upgrade. It can be purchased here:
https://www.tunetrackersystems.com/fetchit-downloader.html
---
11/15/16
Nice new improvements to System 6.2 in Free Upgrade
Both AutoCast radio automation and TuneStacker music selector have been upgraded by TuneTracker Systems, adding feature improvements and refinements.
In AutoCast, System Prefs' "Logging" tab is greatly simplified, with options related to the location and name of output and report logs now handled automatically based on a single checkbox on the Automation tab that points AutoCast to the location where all Station files are located.
In TuneStacker, a refinement in the PlayFolder command assures that audio files that have been uploaded to a folder, but not yet identified to the system as audio files, are found and used by the command without any user intervention. This corrects a problem where files uploaded to a folder on the TuneTracker computer by a method such as FTP might not be included properly by PlayFolder when adding files to a program log.
The upgrade is available at no charge to TuneTracker System users of System 6.2 though the free, Update365 service. The upgrades are available via the "Check for updates" option in each of the two programs.
---
5/9/16
Bulk normalizing and trimming, new FrontSell command, and more, all a part of newly released System 6.2
TuneTracker Systems is experiencing "run-on-the-bank-level" excitement since pre-announcing the release of System 6.2, one of the most significant upgrades we've ever offered.
Of special interest to those who called to pre-order was ArmyKnife's new non-destructive, bulk normalization and silence trimming features, allowing you to level out the volume of all the cuts in your music library and remove silences from their fronts and backs without ever actually touching the audio files' waveforms or causing any generational quality loss.
The other new feature that has gotten a really enthusiastic reception is the surprise addition of "FrontSell," which lets you create intros to certain artists or titles, and have them automatically associated with the correct songs as they are randomly selected by TuneStacker. It's a great choice for stations that want a personalized sound, but don't have the time or staff to do regular daily voice-tracking.
There are many other new features and improvements as well, along with a new and improved version of the Haiku operating system. The entire upgrade is delivered on USB stick, along with installation instructions.
Read more about 5.2, and order it here.
For more information, call TuneTracker Systems at 920-672-8244.
---
12/21/15
TuneTracker Systems Introduces the Fetchit! File Retriever<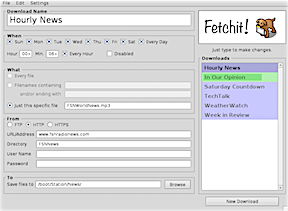 TuneTracker Systems is billing it as "Radio's new best friend." It's a product that answers a need broadcasters have expressed to us for years; the ability to download radio shows, news, weather, commentaries, sports, and other remotely-supplied programming content directly into their TuneTracker computers. Up until now, we've met that need by creating custom scripts for stations, but now we have a much better solution. Fetchit!
Fetchit! is the ultimate downloading tool, combining friendliness and ease-of-use with powerful features and lots of flexibility. With Fetchit!, you can schedule as many different downloads as you like, each on its own unique schedule. Grab files of any length, as well as non-audio files like scripts, PDFs, and affiliate information.
The $299 Fetchit! program is available to order, starting today. See the official Fetchit! page for details and to order.
For more information, call TuneTracker Systems LLC at 920-672-8244.
---
6/3/15
A Friendly, Familiar Voice Now Available to Voice-Track Your Radio Station
Award-winning announcer Dane Scott, the same voice heard on your TuneTracker System time and temperature announcements, can now also voice daily radio shows on your station, very affordably. Personalized with local weather, public service announcements, and promotion of your station's activities, Dane will voice complete "DJ shifts" that will be uploaded directly into your station's voice-track folder.
Dane is known for his friendly, hometown approach and gentle humor. He gives interesting backgrounders on the singers and musicians on your station. Here's a sampling of voice-tracks from a recent program on KEZZ "Easy 94.1" in Steamboat Springs, CO.
To use the service, simply add some voice-track commands to your System 6 format clocks, and send Dane your daily program logs. They will contain all the info he needs to reference the songs being played. You can also send him information about your station and community, which will make the voice-tracks all-the-more local.
Pricing is by market, but extremely reasonable, making quality voice-track services available to even the smallest stations.
For more information and a price quote, call TuneTracker Systems LLC directly at 920-672-8244.
---
3/30/15
Beautiful New FastTracker Video Learning Series Announced
Surprise! We've been hard at work on a completely new library of FastTracker Learning Series videos, and it's our pleasure today to announce its release.
The new library, produced in 720p HD format, looks beautiful on both HDTVs and computer screens. Here's a sample.
Included in the seven-disk set is "Zero to 60," a new video that takes you through all the steps of preparing your station, from importing and marking content, to preparing format clocks, generating master logs, and creating your daily program logs (playlists). The new seven-disk set of DVDs is still $99.95, the same price as the previous library. Current owners of FastTracker libraries can upgrade for $39.95.
See our brand new FastTracker page for details.
---
3/12/15
New TuneTracker System Product Introduces Haiku to the World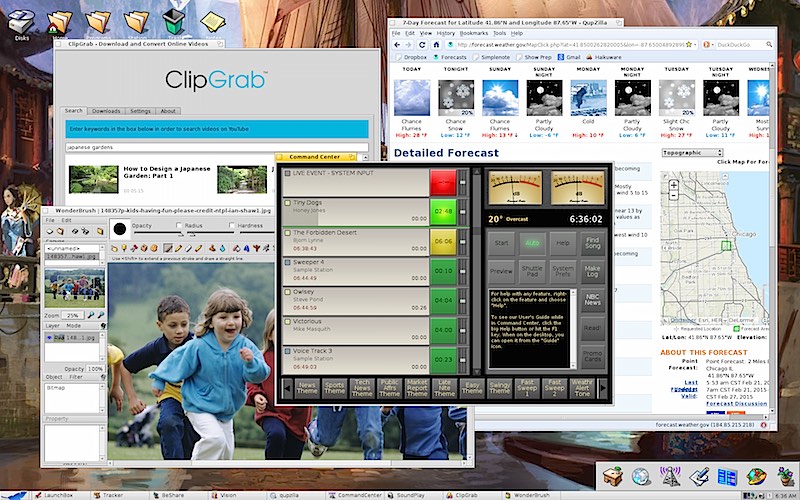 Here's something we've been wanting to do ever since we moved TuneTracker System to the Haiku operating system. Haiku is so special, fast, and versatile, that we've been itching to come out with a product that makes it easy for people to try it out.
Discover Haiku is an easy to run, easy to install version of Haiku, pre-loaded with many of the very best programs available for Haiku (including, of course, a demo of the TuneTracker System). Shipped on an 8GB USB flash drive, Discover Haiku is a great gift for the computer enthusiast in your life, your family, and of course, yourself!
A video on our new discoverhaiku.com web site takes you on a whirlwind tour of the Discover Haiku experience. Check it out, and please, share it around on Facebook, etc. The more people who learn about and enjoy Haiku, the better.
---
2/25/15
New "The TuneTracker Experience" DVD/USB Distribution Announced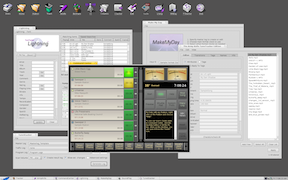 There's a new way to explore the TuneTracker System.
The TuneTracker Experience is a bootable USB flash drive containing a demo of the entire TuneTracker System 6 package, including free sample radio station and sound effects, and the Haiku operating system. Also shipped with the package is a DVD containing a 22-minute presentation explaining a lot about how the system works and demonstrating many features in System 6.
---
11/7/14
TuneTracker Systems "Turns the Key" on Innovative New Distribution Methods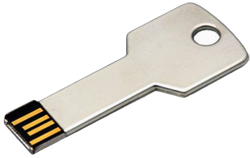 A new approach to product distribution at TuneTracker Systems LLC will mean free, frequent software upgrades, an updatable operating system, and quick, easy system installs and reinstalls. The new distribution system just adopted brings the following improvements:
Installation Key All System 6 orders, whether software-only, or a "Station-in-a-Box," will now be distributed on a USB key rather than a CD. The USB key is NOT a dongle that must be inserted for your system to run. The key contains System 6, plus any extras you ordered, such as TT Anywhere, HeartSong Radio, TunePrepper, customized format clocks, liners, sweepers, etc. It's the ultimate "rescue disk," in case you ever need to restore your system (do so only at the recommendation of TuneTracker Systems support staff).


Free Upgrades! Our generous upgrade policy just got better. The old $250/yr. Update365 program is no longer required. Upgrades to all the programs in your system are free for the entire "point release" you are currently under. You will only need to pay if you want to upgrade to a new major version release when it is made available.


In-Program Updating System 6 programs are now "self-aware," and can be updated right from within each program. A "check for updates" option opens our new updater, describes any new version that is available, and gives you the option to upgrade to it.


Painless Operating System Updates Customers will be able to quickly and easily update their current version of Haiku operating system to a newer release, to take advantage of new features and improvements (operating system update should only be done if TuneTracker Systems support staff specifically recommends it to the customer).
The new distribution features will be in place before the end of the month on all new System 6 orders.
---
9/19/14
New Video Shows Stations Worldwide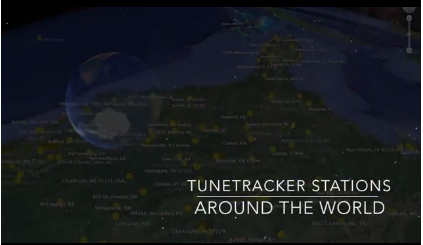 We invite you to take a whirlwind tour of our stations around the world, in a video we just released.
---
5/1/14
Five.One on Five/One!
We're happy on this first day of May, 2014 to announce the release of TuneTracker System 6, version 5.1, with our all new "Transitions" interface.
Introducing, "Transitions"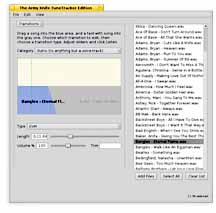 A brand new "Transitions" interface, built into Army Knife, lets you rapidly (and graphically) mark the transitions of your songs, voice-tracks, commercials, jingles, sweepers, and other files.
Playback capabilities in the editor let you listen to everything as you're working on it, so there's no guesswork. Transitions lets you pick a test-with song or voice-track, so you can hear how your transitions will sound in a real-world situation. To fine-tune things even more, there's a slider and a text field that let you tweak your transitions down to the millisecond.
You're not limited to a single type of transition, either. Choose to set an EOM, a Cue, a voice-track ramp, or one of a number of other options, based on what will work best for a particular audio cut.
Transitions is really fun to use. The design is so clean and simple, the approach so intuitive, that you'll literally be up and running with it in seconds. There are clickable buttons and keyboard shortcuts, so you can work the way you like best.
Watch the video
MAJOR Improvements in TuneStacker
Also dramatically improved is TuneStacker, our music selector. Its completely redesigned music selection engine does all the thinking for you, automatically analyzes your music library and protects by the maximums your library can support. Just pick the attributes you want protected (such as Artist, Title, etc.), set how aggressively you'd like them protected with a simple slider, and TuneStacker takes care of the rest.
Other new TuneStacker features
We've also added "Gender" protection as an option in ProximityGuard.
There's also rotation protection.
And, we've made the TuneStacker window resizable, so you can easily view the entire path and filename of your log files.
AND, we've added report generation. If enabled, TuneStacker creates a nice, clear written report of everything it did, how much protection was possible for each attribute type, and lots more.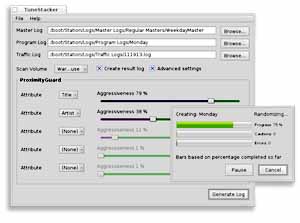 In AutoCast radio automation, the improvements are all under the hood. Transitions are handled much more elegantly, and support has been added for the new and improved transition capabilities in Army Knife. Dozens of other improvements, large and small, have been added to make your broadcast experience smoother, more reliable, and better than ever.
In MakeMyDay, our master log builder, we've added a feature that makes things great for our commercial stations. MakeMyDay now automatically adds the hour to your break markers, meaning one format clock's break markers can be re-used all day long. No need to use different format clocks for each hour, or (Heaven forbid!) edit your master logs anymore. It's a small improvement with huge implications for Traffic.
TuneTracker System 6.1 with all its many improvements is now available to purchase, and is included in all Station-in-a-Box systems we well. For more details, to order, or to upgrade, visit the 5.1 Info page.
---
2/8/14
Congratulations to the new LPFM'ers
TuneTracker Systems congratulates all the LPFM applicants who are receiving construction permits and preparing to go on the air. TuneTracker System 6 is a radio automation system that will easily meet your needs, at an affordable price. We love our LPFM'ers:
For LPFM applicants who purchase System 6, we're offering a $200 LPFM Bonus
We understand that many who enter into LPFM are new in broadcasting, and we offer a sympathetic ear as you brainstorm your station format and plan out your radio operation
We provide a page of LPFM links and resources
We encourage LPFM applicants to call, even if you just want to get ideas for your station. We're happy to help.
---
12/23/13
A brand new web site to welcome in the new year
Just in time for 2014, TuneTracker Systems has released its brand new web site. In the tradition of AutoCast itself, the new site is designed for beauty, simplicity, and ease of use. The site has more sophisticated, user-friendly navigation.
We encourage you to cruise all around the site and try all the links. See what surprises lie in store. Be sure to check out our new
Product Wizard
, which is designed to help visitors quickly determine which TuneTracker System 6 package is the right match for their station's needs.
---
11/27/13
New videos added to the TuneTracker channel
We've been busy in the studio, producing up some nice new video introductions to some of our products. The latest intros cover
TimeTracker
, our background recording product, and
Army Knife
, our free attribute editor.
Subscribe to our YouTube channel or visit it often to see all the latest additions!
---
8/15/13
TuneTracker radio automation systems answer the price/feature conundrum for LPFM broadcasters
While small broadcasters don't have the budget of their larger counterparts, their professional expectations are every bit as high. That's probably why TuneTracker Systems continues to lead the market among low power AM and FM broadcasters.
TuneTracker radio automation systems offer high-end, professional features at a price within reach of even the smallest radio operations. Here are some of the features that make TuneTracker a good choice for LPFM and LPAM stations:
Extreme stability - Small non-profit stations often have small staffs, so it's all the more important to have automation you can trust to continue running during times of unattended operation.
Easy to Like, Easy to Learn - Often LPFM stations have unpaid volunteers doing radio shows. AutoCast's user interface is beautiful, uncluttered, and unthreatening. It's a quick learn for new, first-time broadcasters.
Voice-Track Friendly - By voice-tracking their shows, staffs with limited time/availability can add their warmth and friendliness to your station's programming all day long. TuneTracker System not only supports voice-tracks, but will even play them down the ramps of songs. You can also add "talk beds" automatically if you like.
Extremely Customizable - You can make your volunteers feel special and appreciated by giving them access to their own custom sets of hot-tracks, scripts, and specially-configured buttons. TuneTracker can even pre-load them just before they sit down to do their shows.
Lightning-Quick Request Shows - LPFMs are famous for their listener-first approach to broadcasting. If your station wants to do request shows, you'll love Lightning (included in the TuneTracker suite), which takes advantage of our system's super-fast indexing features to find songs by a wide variety of criteria, instantly.
Unlimited Format Flexibility - While larger commercial stations might use just two or three different format clocks, LPFMs might have a dozen or more. The same station might have a Jazz Hour, Tammy's Tech Talk, Morning Madness, Classic Rock Hour, Evening News Wrapup, Sports Central, and any of a number of other special shows based on local needs and interests. With the TuneTracker System, every hour of every day can be different. We even offer format clock design services to help you get rolling.
TLC - Not everybody involved in low power radio has previous radio experience. At TuneTracker Systems LLC, our caring, reassuring staff will help you along. Expect us to be there for you, and to do everything we can to assure you have a great experience with the TuneTracker System.
---
5/1/13
TuneTracker "System 6" Will Make Your Day
TuneTracker Systems announces "System 6," a major upgrade of the TuneTracker Radio Automation Suite that not only builds on the capabilities and features of previous releases, but runs under
Haiku®
, the new, exciting successor to the Be Operating System (BeOS).
MakeMyDay
Distributed along with a free copy of Haiku®, TuneTracker System 6 includes updated versions of AutoCast, Lightning, Army Knife, and TuneStacker, and a brand new, graphically-based master log tool called "MakeMyDay."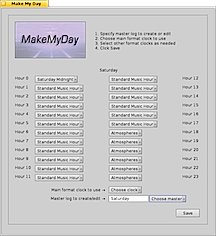 The new MakeMyDay interface allows users to combine format clocks in any order to create master logs for each unique type of day your station broadcasts, such as a Weekday, a Saturday, a Sunday, Christmas Day, etc. MakeMyDay is a game-changer for the TuneTracker System, and you can read more about it on our System 6 info page and on its own page. A version of MakeMyDay is being released for BeOS as well, because it is likely to be popular with all TuneTracker users regardless of the version they're using.
Attribute Access
One of the strengths of the TuneTracker System is its use of song "attributes," which provide a great deal of control over how songs are selected and played. In System 6, every program, including Command Center, Lightning, Army Knife, TuneStacker, and TunePrepper is able to access the full range of available music attributes, including three new ones, allowing them to be searched, edited, and exploited to the max.
The New Operating System
While BeOS has always been, and continues to be, a rock-solid performer. Haiku® is equally solid and dependable, and runs even faster on the same hardware. Under Haiku®, the TuneStacker music selector/program log generator can build an entire day's program log, randomly selecting all the music, even with aggressive proximity protection, in a few seconds. Haiku® has the added benefit of being open source and under active development by programmers around the world.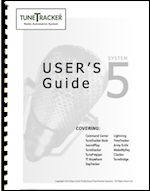 As with previous releases, TuneTracker System 6 is available as a software-only purchase, or in a pre-built Station-in-a-Box package.
A completely new, 222 page electronic user's guide is being released along with TuneTracker System 6, and is included in the package.
A bound, printed version of the user's guide has also just been released and is orderable by those purchasing new systems as well as those who already own them. The printed manual is comb-bound so that it lies flat, allowing it to be read "hands free." This allows users to look at the manual while doing the things described in it. Generous margins allow ample space for note-takers.
TuneTracker System 6 ships for the exact same $699 price as previous releases. It is available as an upgrade to users of all previous versions of AutoCast for $399. An upgrade from TuneTracker Basic is $599.
Much more information TuneTracker System 6 can be found here.
---
1/31/12
TuneTracker Systems Releases "HeartSong Radio" Format
We're pleased to announce the release of a brand new Contemporary Christian radio format for the TuneTracker System, called
HeartSong Radio
. HeartSong Radio is a complete, ready-to-broadcast format that includes program logs, sweepers, liners, IDs, and a library of over 500 chart-topping Christian songs, all for $399. The same HeartSong Radio package, customized with your call letters, is $579.
The HeartSong Radio package is actually two formats in one. You can opt to use the "Light" or "Standard" Adult Contemporary program logs. Both use the same core library. Light AC adds some softer contemporary songs. Standard AC is straight-down-the-middle Adult Contemporary with just a bit of an edge.
HeartSong Radio is available for existing TuneTracker customers, and can also be ordered pre-installed on our TuneTracker "Station-in-a-Box" systems. When delivered customized and pre-installed, it's possible to literally go on the air with the format the day you receive your system.
Complete details are on our HeartSong Radio page.
The HeartSong Radio format is now available for immediate order and delivery. To learn more about it, or to order, call us at 920-672-8244.
---
1/25/12
Congrats, Gateway FM!
One of our stations in Great Britain has been honored by the Prime Minister for their excellent programming.
Gateway 97.8 is the local community radio station for the Basildon and East Thurrock areas of South Essex, providing news, sport and information to the local population. It reflects the interests, tastes, backgrounds, cares and concerns of local communities. It aims to introduce new ideas and new music and keep a caring and critical eye on the activities of politicians, local and national. Gateway also offers accredited media courses and 24 students have passed level 1 or level 2, equivalent to a GCSE.
Congrats to Yvonne, Richard, and the entire staff at Gateway for their excellent community service work!
---
12/16/11
TuneTracker 4.6 Suite Adds Important Features and Improvements, and a New Army Knife!
Arriving just in time for the holidays, AutoCast 4.6 Suite is our second full release this year. In it you'll find our 12th button type, a new command, a much-anticipated push-to-pause feature, and a beautifully revamped, powerful new Army Knife program you'll love.
Along with some impressive new features, 4.6 also provides important fixes and improvements. Among them is a bug fix that resolves an issue with duplication of program log events when doing drag-n-drop editing of the program log from within AutoCast.
See the entire rundown of improvements and features, and order your copy, on the 4.6 Info Page.
---
5/1/10
Major Speedups and New Features in New TuneTracker 4.5 Release
| | |
| --- | --- |
| AutoCast 4.5 | |
TuneTracker Systems is excited to release the new 4.5 version of AutoCast, plus major udates to TuneStacker music selector and Lightning request finder and drag-n-drop program log editor..
TuneStacker has taken its biggest leap ever, and now generates program logs in seconds, rather than minutes or hours. AutoCast has added its eleventh button type, which lets you inject a sports log or other broadcast log into an existing program log, right while that program log is playing over the air. Lightning now shows expired commercials, has expanded view options, and new color coding. Those are a few examples, but there are many new features and improvements in the 4.5 suite, which is our most significant upgrade in years.
You can read all about the TuneTracker 4.5 System upgrade on our 4.5 Info Page.
---
4/29/11
New "SignalCaster" Remote System Announced

Broadcast-quality remotes
with SignalCaster™
TuneTracker Systems has just announced a new package, available soon, that will allow you to do remote broadcasting from an iPad (or laptop), and even engineer your own remote with no assistance back at the radio station.
SignalCaster™ makes it possible to do beautiful, broadcast-quality remotes from virtually anywhere. It comes with a special microphone, accessory kit, including iPad kickstand, and instructional DVD detailing initial setup and use.
Using the SignalCaster broadcast system, you'll be able to remotely control your TuneTracker radio automation to put yourself on the air, and take yourself off the air, and to monitor audio coming to you from the radio station. The system also works with many other radio automation products.
More details are available on the SignalCaster page.
---
4/14/10
Smart New AutoCast 4.2 is Released
| | |
| --- | --- |
| New status reporting in TuneStacker | |
TuneTracker Systems has announced a new 4.2 release of the AutoCast radio automation system.
Both AutoCast automation and the TuneStacker music selector have both been updated dramatically. There are two brand new, powerful commands. We've taken the guesswork out of program log generation and sped it up. We've introduced multiple-event switcher capabilities to both buttons and program logs. 4.2 now lets you specify durations for timed events right down to the millisecond (thousandth of a second.) We've added song length detection and other improvements that assure accurate "place-finding" when TuneTracker loads a program log. And your output logs now report many new details about what ran on your station.
If you haven't upgraded for awhile, you could be missing as many as 100 new features...and attractive upgrade rates are available right now. You can read all about AutoCast 4.2 on our 4.2 Info Page.
---
3/18/10
On-the-Go Touch Command Announced
TuneTracker users can now "take command" from the road using a variety of popular wireless and 3G devices, including the iPhone, iPod Touch, and iPad. Users can fully control AutoCast, generate program logs, and do most of the normal tasks they would do if they were sitting in front of the computer.
Below is the screen from an iPod Touch showing TuneStacker generating a program log while AutoCast runs in the background. All that's required is that you have our TT Anywhere program running on your TuneTracker computer, and an inexpensive VNC client app such as the superb RealVNC running on your portable device.
| | |
| --- | --- |
| Remote control from an iPod Touch | |
This capability allows you to view your system from the road, do work on it, even put yourself on the air remotely depending on the method you are using to do your remote broadcast.
Using multi-touch "finger gestures," you can view the interface fullscreen, zoom in, pan about, and perform clicks by touching the screen.
With the iPad interface, which runs the same apps as the iPhone and iPod Touch on a larger screen, it may even be practical to engineer your own ballgame broadcast or remote DJ show.
---
9/16/09
AutoCast 4.1 Hits the Airwaves
| | |
| --- | --- |
| AutoCast 4.1 | |
Nearly a year of development and innovation culminated today in the release of AutoCast 4.1, representing a big step forward for TuneTracker Systems, and introducing many new features and under-the-hood improvements.
AutoCast 4.1 is better live, and better automated. There's a new live-assist mode, color-coding of program log events for at-a-glance knowledge of what's upcoming, a talkbed feature that can automatically place instrumentals beneath voice-tracks, headlines, bulletins, song billboards, etc., automatic volume boost/reduction that can be assigned to nearly any kind of audio event, the addition of a Gender attribute, and more.
An important new addition is the KickStart option, which adds a level of protection unique in the industry. While AutoCast is already at the head of the pack for stability, we've created a separate program called KickStart that can run independently of AutoCast, to monitor it. If, for any reason AutoCast were to fail to respond, the KickStart program will kill and restart it automatically, resuming right where it should be in the log, down to the second.
If you haven't upgraded for awhile, you could be missing as many as 70 new features...and attractive upgrade rates are available right now. You can read all about AutoCast 4.1 on our 4.1 Info Page.
---
6/8/09
4.1 to Have New Live Assist Mode
The latest version of AutoCast radio automation software introduces a dozen significant new features and improvements, including a special "live assist mode" radio show hosts will love.
While live-assist capabilities have always been a part of TuneTracker radio automation systems, the new 4.1 version of AutoCast makes it even more effective during live DJ situations. Click-holding on the Auto button changes it to a green color, and enters AutoCast into a mode that temporarily disregards all time-correction events in your program log, forcing AutoCast to track sequentially through all events, regardless of the passage of time. This eliminiates scenarios where AutoCast could potentially skip past some events when it is placed into automation mode, so the list of upcoming events remains linear and predictable. When the live show is over, a single click-hold on the Auto button will return AutoCast to normal automation mode.
In case a show host would tend to forget to engage the new live-assist mode, there's a simple command you can add to your program log that will turn it on just before his or her show starts. And Program Directors needn't worry that DJs might walk away and leave time-corrects turned off. Syntax can be added right into the program log that will automatically turn normal automation mode back on at the end of the show.
AutoCast 4.1 is targeted for release before the end of June.

---
5/1/09
Video Cinema Section Added
TuneTracker Systems has just added new AutoCast Cinema page, featuring a dozen online videos demonstrating various aspects of our popular AutoCast radio automation system.
| | |
| --- | --- |
| New Video Cinema Section | |
Included is a 22-minute-long video which explains a great deal about what the system can do in automated, live, and live-assist environments, and introduces a number of available accessory products.
In addition, there are 11 brief videos that cover specific features, demonstrating how to use them, and explaining some of the ways they can be customized for each radio station's needs.
---
12-15-08
AutoCast 4.0 Crowns "3x" Series
Capping an enormous run of new features, added since our 3.0 release in 2006, the new AutoCast 4.0 marks a milestone in the development of our highly-popular radio automation software suite with its own impressive array of new features.
The new version, released today, adds major new capabilities designed to improve your radio operations on-air and off, including powerful new live and automated features, and a completely revamped "output log" that gives stations rich, "researchable" information about every item that played, all day long.
| | |
| --- | --- |
| AutoCast 4.0 | |
Lots of detail about the new version, as well as a rather astounding list of features added since 3.0, can be found on our new
AutoCast 4.0 Details Page
. You can also place orders directly from that page or by calling 920-672-8244.
Recognizing that many of our current stations are going to want to move to 4.0, TuneTracker Systems has set special upgrade pricing for those with previous versions of AutoCast.
For current Update365 subscribers, the upgrade to AutoCast 4.0 is free. Request your copy today.
---
09-26-08
"AirWear" TuneTracker Accessories Introduced


Fun, Audacious Design
(click to enlarge)
TuneTracker Systems has introduced
AirWear
, a selection of clothing and accessories that let TuneTracker users show their pride. These "airable wearables" include t-shirts, sweatshirts, and other tops for men, women, and children, barbecue aprons, and other fun, TuneTracker-customized gear like mousepads, coasters, and cutting boards.
Every product boldly declares, "I OWN THE AIR," accompanied by a microphone and the TuneTracker Systems logo. A large variety of sizes are offered, in a rainbow of colors.
You can buy individual items for yourself, or purchase them in larger quantities at a discount for your entire staff.


TimeTracker 2 in action
(click to enlarge)
"TimeTracker 2" Adds Switcher Control
Radio stations that have the need to do background recordings of audio feeds from a variety of different input sources have a new friend in TimeTracker 2, our new-and-improved time-shift, scheduled recorder.
Switcher Control
A desirable new feature in our TimeTracker scheduled recording software is the ability to specify different switcher inputs for various scheduled recordings. Pull news feeds from one input. Grab commentaries from another. Sports from yet-another. When used with one of our AutoCast switcher packages, up to 16 different inputs can be routed to any of up to four different outputs for recording.
Reboot Recovery
Also new in TimeTracker 2 is the crucial option allowing it to auto-launch after a power outage or other problem.
Set and Forget
Enhanced "Default" options make every new recording event capable of using a set of user-configured defaults for switcher input and output as well as the sound card used, saving time and effort.
Got Multiple Cards? User Multiple Switcher Outputs!
While most stations' needs can be taken care of by assigning a single switcher output as the audio source you will send to your computer for recording, you're not limited to that. If you want to be able to take advantage of more than one output on your switcher when recording feeds, and you have multiple sound cards in your computer, you can specify that one switcher output goes to one card, while another output goes to a different card. You can also use the multi-card option to wire-in a spare audio channel that is not connected to your switcher.
AutoCast 3.3 Released


3.3, relaying remote Internet stream
(click to enlarge)
It started out as a simple maintenance release with a few new features, but by the time it made it out the door, AutoCast 3.3 had evolved into a very significant upgrade. AutoCast 3.3 contains startling speedups. Almost everything happens instantaneously now, even loading-in a new program log. The stability is world class. New features include:
"Expires" attribute lets AutoCast skip any audio file that is expired
Artist and Title are displayed on separate lines, much easier to read, more room for both New configurable button mode for instant relaying of a stream or audio file from the web (each configurable button can now perform one of six different functions) Label field added to the syntax for Relay-For, so Command Center displays custom data onscreen about the stream or file being relayed Instant log loading (no waiting for the log to load after double-clicking on it) No longer a need to go to queue to reload current day's log. Just hit CTRL-R Exactly correct place found when program log is loaded or reloaded "Last Played" attribute shows the last time an item played Expanded "Info" feature displays a whole profile of data (Artist, Title, Genre, Length, more) in addition to the info data you have specifically added for that song GetPlay now plays, not only a specific correct file for a specific date, but even for a specific hour of the day. Lots less log preparation for you to do, especially at stations that voice-track. Displayed running times continue into the next-day's program log Clicking Next-to-Play's gold Start button allows current song to keep playing rather than chopping it off, so you can fade it down as you wish - Delay gone when switching to collapsed log view and back to full view...very fast now! Live On and Live Off events are logged to output log Simplified Ramp countdown display reduces onscreen clutter Fix for lockup that happens if you hover a mouse over a hotbutton while a log is loading Much faster queuing of hottrack buttons Better, more consistently-updated running times Speedups everywhere. Nearly everything happens instantaneously.
Originally planned as an internal upgrade for current users, it became clear as we neared release that this version needs to be the latest-greatest version sold publically as well, so all our systems are now shipping with it.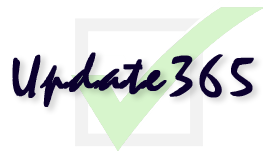 Update365 Plannounced
TuneTracker Systems has just announced a new upgrade policy that will allow all its current customers to get "insider updates" to Command Center well-in-advance of major public releases.
TuneTracker Systems releases a major new version of AutoCast with many new features about once a year, but new features are being added to it constantly. The result is that important new features that are built into the system as much as a year prior to the time they are released for general consumption.
The new $250 Update365 plan entitles the purchaser to a full year of routine upgrades to their AutoCast installation, including any major releases that occur during that time. Since a major upgrade normally goes for $199, the extra cost to be involved in the plan is only about $50. The benefit is in not having to wait for up to a year to see features that are already added and ready for use.
The plan can be ordered directly from the Update365 page or by calling TuneTracker Systems directly at 920-672-8244.
TuneTracker Systems Announces Release of "TuneBridge"
While TuneTracker Systems has its own, powerful music scheduling software called
TuneStacker
, sometimes stations adopting TuneTracker for their radio automation needs already have a music selection program they would prefer to continue using.
TuneTracker Systems new TuneBridge accommodates that need by building a database of all the music and other audio files in your TuneTracker computer, even across multiple hard drives and partitions, for importation into popular music selection software such as Natural Music, MusicMaster, Music 1, PowerGold, Selector, and others.
| | |
| --- | --- |
| TuneBridge data charted in free online Zoho resource | |
TuneBridge
, which costs $99.95, creates a column-separated database that can not only be used for integration into music scheduling programs, but also loaded into a spreadsheet or database program to allow detailed study of the contents of your library. Know at a glance how much of your library is of a certain Genre or Length, or other specific criteria. Generate an unlimited number of unique, customized charts, graphs, and reports using the tools provided in your spreadsheet or database program. Use a commercial suite like Microsoft Office, or one of the excellent free resources such as
OpenOffice
, or the cool online
Zoho
database tool. Zoho can be used right from your TuneTracker computer using the Firefox web browser!